PROJECT SOAR PROGRAM
Project Soar provides 50 lessons to empower teenage girls in the developing world. The Project Soar program is based off the 5 Pillars of Empowerment, which embody our beliefs that every girl should have the opportunity to know her Value, Voice, Body, Rights and Path.
A Project Soar Girl…
Knows her Value. She is confident, has high self-esteem, and respects her own worth and potential.
Knows her Voice. She communicates her thoughts clearly, resolves conflict effectively and advocates for herself productively.
Knows her Body. She understands changes in her body and values her own health and wellness.
Knows her Rights. She embraces her right to an education and understands her right to be free from exploitation, violence and forced marriage.
Knows her Path. She has tools to envision her future, sets goals assertively and conducts action planning with ease.
Art & Creativity
Art is not offered at the majority of Moroccan public schools, and this is a gap that Project Soar fills for the girl beneficiaries it serves.  Personal inspiration and growth are at the heart of Project Soar — we believe art helps inspire creativity and aids girls in imagining future possibilities.  Project Soar art sessions are rooted in themes of social justice, empowerment and self-awareness.  They are also built around exploration of mediums that many girls may not have experienced previously.  During any given week, you might find the girls discovering photography, sculpture, stenciling, painting, self-portraiture, or more.
Sports & Fitness
Athletic opportunities are not easily accessed by girls in semi-rural and rural areas of Morocco.  At Project Soar, we are passionate about sports, and believe sports are instrumental in confidence building for girls. Accordingly, we offer weekly athletic sessions with an ever changing curriculum.  Girls can be seen playing basketball or soccer, doing yoga or meditation, learning how to skateboard or do parcours, or participating in a variety of high energy, fitness based games. Project Soar's focus on sports aims to teach girls the lifelong benefits of fitness and health, while encouraging teamwork and good sportsmanship.
Highschool Exam Prep Classes
Staying in school is an essential requirement for being a Project Soar girl.  The public Moroccan school system administers an entry exam for all students who seek to attend public high school. This multi-day exam is tough. In 2015, 62% of adolescent boys and girls failed the exam, with rural and semi-rural girls likely failing at a much higher rate. This is a real danger point for girls to drop-out of school (and as a result to become child brides).  In 2016, Project Soar offered a pilot 70 hour high school entry exam prep class for a group of 12 girls from three semi-rural villages.  Led by local Moroccan teachers, classes were offered in Math, Natural Sciences, Physics, French, and Arabic. High school prep classes will now be expanded and offered again in 2017 to help ensure that girls have an opportunity to attend higher education and have an active hand in deciding their own futures.
Leadership & Life Skills
Many Moroccan girls from lower income families face a future that involves early marriage and early motherhood.  Their chances of accessing the workforce in non-menial jobs remains slim, This is especially true of girls in semi-rural and rural areas. So beyond helping girls to stay in school, Project Soar aims to inspire girls to believe in their own value.  The Project Soar affirmations, I am strong, I am smart, I am a capable, I am worthy, are instilled in the girls through every program offered. Additionally, we provide girls with after school coaching and classes, in topics such as public speaking, goal setting, problem solving, social entrepreneurship and women in the workforce.   These are subjects not covered in Moroccan schools and often not discussed with girls in their homes or communities. These sessions help empower girls and are intended to encourage each girl's development.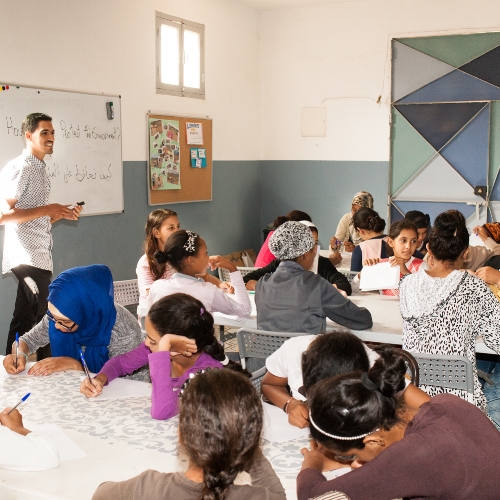 Tutoring and Homework Help
Girls in Morocco go to school half a day, six days per week.  Those in rural and semi-rural areas are often left on their own to puzzle through homework, as their families may not have the educational background to support them. Accordingly, many Moroccan girls from modest backgrounds do not excel in school, increasing their chances of becoming dropouts and child brides.  Beginning in the Fall of 2016, Project Soar started providing after-school homework support and tutoring atProject Soar Headquarters.
Language Classes
Most Project Soar girls grow up speaking a Moroccan Arabic dialect, known as Darija.  However, when they get to school, they need to learn and understand Modern Standard Arabic and French. This is a challenge for many girls, particularly those from modest backgrounds where these languages are not spoken in the home.  As a result, girls often do poorly in school. Project Soar offers weekly Arabic and French classes during the academic year. Additionally, Project Soar offers English classes year round to increase their chances for future, employment.
After school Clubs
Moroccan adolescent girls have few opportunities for extra-curricular activities.  The Project Soar Chess Club and Running Club offer small groups of adolescent girls a chance to meet regularly and pursue their hobbies in a safe and supportive environment. A local chess master instructs the girls on an occasional basis at the Project Soar headquarters, and girls can meet to play on their own at the Project Soar headquarters with boards and timers furnished by Project Soar. Under the guidance of a running coach, the Project Soar Running Club can be seen training in the neighborhood, cheered on by the local community. Girls are provided necessary running gear, such as sports bras and sneakers.
Health Education
Many semi-rural and rural communities in Morocco have inadequate access to health education. Additionally, many adolescent girls drop out of school because of the lack of affordable menstrual products. Project Soar tackles a wide range of health issues such as personal hygiene,and nutrition. Project Soar is also the pilot partner organization in the Muslim world for BeGirl – a program that provides innovative period kits. Twenty-two Project Soar girls are now serving as the baseline target group in the region for this ground breaking program.
Adolescent Girl Safe Space
Many Moroccan girls from modest socio-economic backgrounds have large families and small homes.  There is little private space to do homework, read, talk with friends or explore hobbies.  Beginning in the Fall of 2016, Project Soar offers a safe and supportive environment for adolescent girls to gather.  Girls will also have access to a small library of books, in Arabic and English, 4 Kindle readers and three I-pads.
SATELLITE PROGRAMS
When Project Soar started in 2013, it sought to empower the adolescent girls it in the community of Douar Ladaam. Word of Project Soar quickly spread, and girls from neighboring villages began walking from over an hour away to attend activities. In 2015, the organization began to shift its gaze to underserved adolescent girls throughout Morocco, knowing that so many of the risks and challenges faced in Douar Ladaam were not unique.
Project Soar-in-a-Box is designed to bring the organization's principles and curricula to adolescent girls in need in varying regions.  Project Soar-in-a-Box includes complete curricula in several areas, with visual examples, detailed instructions, teacher tips, as well as supplies.  Project Soar-in-a-Box puts all the needed materials and tools into the hands of a local program leader/partner, eliminating the budget issues that so often plague development work.
As of January 2018, Project Soar is working in 25 satellite sites and is aiming to add even more additional satellite sites during the year.