In 2011, a teacher shared with us his anguish after a girl was rushed to hospital. Their school had no toilet facilities, so she had wandered into the bushes to use the toilet. Whilst she was in the bushes, she was bitten by a snake. A few months before that, two boys passed away because of their bites. We realised something as simple as a toilet could help make schools safer.
In consultation with two rural communities in Sierra Leone we've rebuilt two schools: one in Ronietta, and one in Magbafth Line, and included new toilet blocks in both schools to make them AWESOME places to learn.
We worked through a local partner, CORD Sierra Leone, to drive the construction – they are an established NGO with a proven record of building schools, toilets, and more across Sierra Leone. They use local materials and labour, and work in consultation with the local community members and chiefs at every step of the construction process.
Why make school's awesome?
Many of the schools we work in don't have facilities that enable learning, or provide a safe environment for the girls and boys enrolled. During the decade long civil war in Sierra Leone, over 1200 schools were burnt to the ground or severely damaged by rebel soldiers. In many rural communities the local school is the ONLY one accessible for miles around – so if there isn't a safe school, there is simply nowhere else for the community's children to learn.
A lack of toilet facilities has been linked to girls being absent from school, particularly when they have their periods.
Reasons To Love School Awesomisation
COMMUNITY LED FROM START TO FINISH
One of the reasons we love working with CORD is that they involve the community at every stage of the construction process, most importantly they appoint a School Management Committee (SMC) which includes local community members and elders, local government representatives, parents and school staff. The role of SMCs is the management and monitoring of the school's running, ensuring it continues to operate as a safe learning environment and the ongoing upkeep of the school.
MOTHERS KNOW BEST
Another great feature of the School Awesomisation is the Mothers' Clubs created alongside the SMCs. Mothers from the community work together to encourage the children in the community to enrol and attend school. They monitor school attendance and work with parents to ensure children in the community are supported to attend schools – especially for girls. Both communities have seen a significant increase in enrolments as surrounding communities learn of the wonderful new school building available.
TOILETS MATTER
Alongside high quality school buildings, a lack of decent toilets is also known to have a major impact on girls attending school. In particular, girls in rural areas- already among the least likely to attend school- face a further disadvantage as they get older without facilities which enable them to manage their menstruation in a safe and hygienic way. We're pleased to note that a disabled toilet has been built in Ronietta school to further increase accessibility.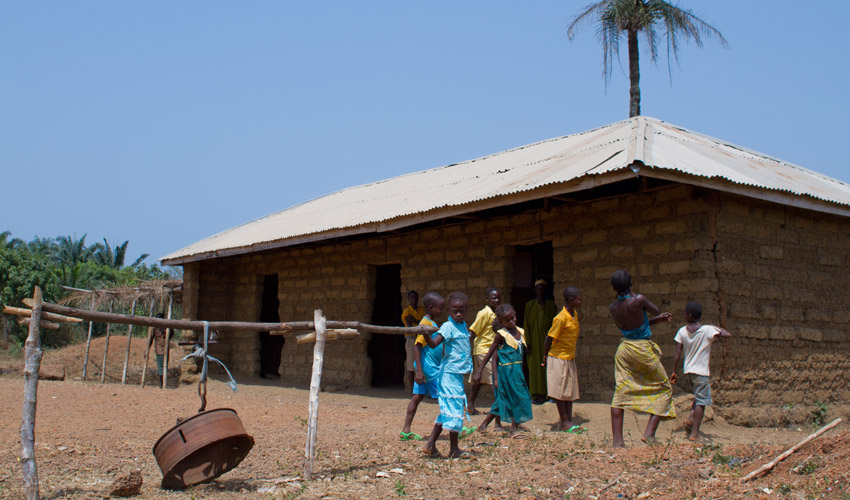 IT WOULD TAKE 700 PEOPLE TO REBUILD THIS SCHOOL
Water had damaged the mudbricks beyond repair. The walls were cracked and crumbling. It's one of the worst schools we've ever seen, and it took 700 people to rebuild it.
WHEN A COMMUNITY'S DREAM BECOMES A REALITY
I remember the very first meetings I had with the Magbafth community about building a new school and even back then I could feel the community's excitement.
Follow their journey on their campaign here.